25 May 2017
World first reveal for Hino at Brisbane truck show
Hino Australia has provided a sneak peak of its exciting new 300 Series 4x4 model, revealing a prototype at the Brisbane Truck Show, which is the first time it has been displayed globally.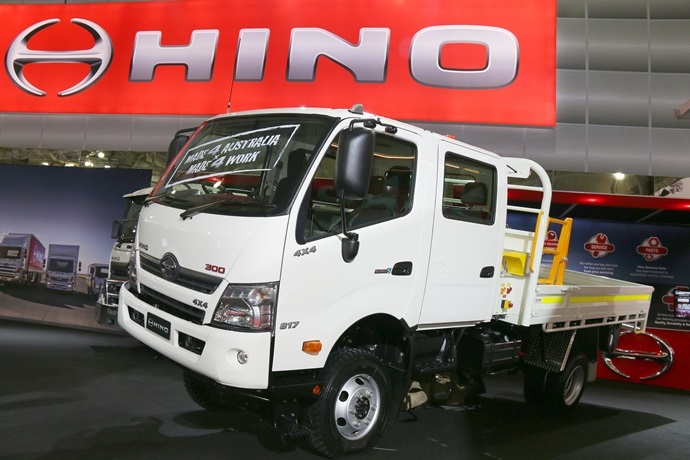 Developed specifically for the Australian market, the prototype has undergone extensive testing in some of the country's most rugged operating conditions.
"Not content with developing the truck on the test tracks of Japan, the prototype 300 series 4x4 vehicles have also undergone years of real-life infield testing," said Daniel Petrovski, Manager Product Strategy for Hino Motor Sales Australia.
"Following this extensive testing, we are delighted to announce that the 300 Series 817 4x4 will join our 300 series model line-up in the fourth quarter of 2017.
Selected Hino customers have been evaluating prototype trucks on and off-road in some of the harshest Australian bush-tracks, trails and roads since 2014.
"The test vehicles have operated flawlessly across various types of terrain from the deserts of Australia's interior to the rainforests of far northern Queensland's Cape York.
"It is a model customers and dealers have been asking us for – it is particularly significant as it will allow Hino to enter into new segments of the market that we have not had access to before.
Like all 300 Series vehicles in the Hino range, the 817 4x4 is leading the class in safety with Vehicle Stability Control and reverse camera as standard across the range, meaning it will be the only Japanese 4x4 truck in its category to do so.
"Given the success of the Hino 500 Series FT & GT 4x4 models and the record breaking results we have seen by Hino at the Dakar Rally, the new 300 series 4x4 models will possess a champion 4x4 pedigree.
"With this and the extensive Australian field testing, we are extremely confident that it will be a popular choice for our customers," concluded Mr Petrovski.
The exact specifications of the 300 Series 817 4x4 will be revealed closer to its launch in the fourth quarter of 2017.